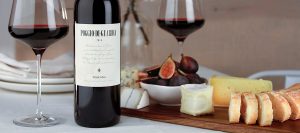 As in France, many Italian wine regions, such as Tuscany, experienced ideal climatic conditions in 2016. During my last (2017) trip to the region, I tasted many impressive wines from this remarkable (2016) vintage. Deeply coloured reds bursting with ripe flavours and refreshing/balancing acidity. Even more impressive is the structure that assures great aging potential. Elegant, balanced terroir wines, which merit a spot in your cellar, as they should
improve over the next 15 to 20 years. At Les Conseillers du Vin we decided to taste a selection of reputed producers to confirm the high quality level and aging potential of this outstanding Tuscan vintage.
As usual a group of 15 experienced tasters analysed 8 Tuscan reds in the usual blind tasting format. At this point we must keep in mind three important factors: 1-climatic conditions were ideal if not perfect in most appellations/areas of Tuscany. 2-cool nights assured freshness (acidity) and balance. 3-With great structure (tannins), wines from this vintage should age gracefully for a very long period, depending on the appellation, anywhere between 10 to 30+ years.