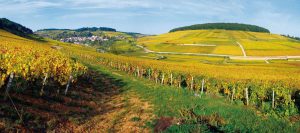 Mother Nature was tough on Burgundy in 2016. She naturally reduced yields with damaging frost and hail. For many experts the 2016 white Burgundies are the result of an outstanding, perfect combination, of ripeness, freshness and concentration. In some sub-regions the frost and hail reduced production by 30%, and in some areas up to 50%. This small production has yielded lively, intense, yet well balanced whites with great aging potential. Many 2016 white Burgundies merit our attention and should find their way into our cellars.
A few days ago @Les Conseillers du Vin a group of 16 experienced tasters analyzed seven (7) 2016 white Burgundies plus a mystery wine in the usual blind tasting format.
Results: To establish the order of preference of the tasting panel, 3 points were awarded to a first place vote, 2 pts for a 2nd place vote and 1pt for a 3rd place vote.