1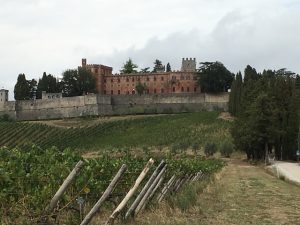 On a recent trip to Tuscany during the 2017 harvest, I noticed a trend towards a more tradionnal approach. Many tastings and conversations lead me to believe that a return to the past has brought increased quality and typicity to many Tuscan reds.
Visiting the two most iconic districts of Tuscany, Chianti classico and (Brunello di) Montalcino appellations are setting the pace and raising the bar with upscale reds bursting with character and aging potential.
1970 – 80's : Super Tuscans
We should thank the Antinori family for their foresight and courage to challenge the rules of production of Chianti Classico. By refusing to incorporate white varieties and replacing them with international varieties such as Cabernet Sauvignon, the taste profile and aging potential of the embassador of Tuscany was modified. This trend, which began in the early seventies, created a category know as the «Super Tuscans».