1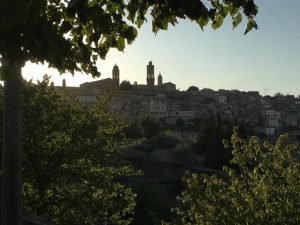 The Montalcino terroir dealt well with the heat and drought of the 2011 summer growing season. In fact Montalcino faired much better than its neighbor Chianti Classico. According to many experts, the region produced Brunelli that offer ripe flavors with soft tannins for extended aging potential. Full bodied reds with jammy flavors and soft textures all while maintaining good balance. Are these fine Sangiovese reds already charming and drinkable ? Do these full flavoured, elegant terroir wines display fruit maturity and richness as expected ?
At Les Conseillers du Vin, we decided to taste a selection of wines from reputed producers to verify the aging potential, richness and balance of this very good Brunello di Montalcino vintage. How long should we leave these fine Brunelli in our cellar? And how much should we pay for these high quality Sangiovese based reds? A group of 16 experienced tasters analysed 7 Brunelli plus a mystery wine in the usual blind tasting format.
Results: Overall the wines faired well, but not as consistent as hoped. To establish the order of preference of the tasting panel, 3 points were awarded to a first place vote, 2 pts for a 2nd place vote and 1pt for a 3rd place vote.